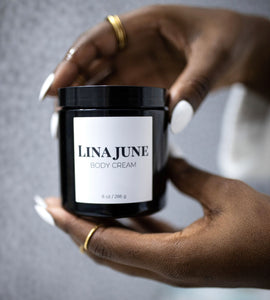 Lina June's Body Cream is a signature blend using West African shea butter and nourishing oils to soothe and hydrate your skin.
Benefits
Help restore your skins healthy glow and lock in moisture
Key Ingredients
Vitamin E from Sunflower Seed Oil, replenishes dry skin and deeply hydrates
Shea Butter, locks moisture into the skin
How To Use
Apply to damp or dry skin daily for a moisturized glow. For external use only.

Ingredients
Unrefined shea butter, Deionized Water, Coconut Oil, Hempseed Oil, Sunflower Oil, Vitamin E, Mineral Oil, Isopropyl Myristate, Cetyl Alcohol, Glycerol Stearate, Stearic Acid, Glycerin, Propylene Glycol, Cetereth-20, Carbomer, Aloe Vera, Disodium EDTA, Dimethicone, Petrolatum, Methylparaben Triethanolamine, Propylene Glycol, Diazolidinyl Urea, Iodopropynyl Butylcarbamate, Proplyparaben, Beeswax, Fragrance Essential Oil Blend
Size: 7.5 oz